I knitted these with 100% British Breed Wool.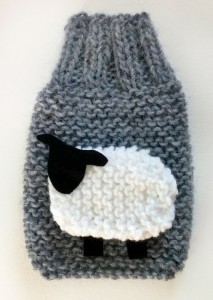 You will need:
1 25g ball of double knit wool.
Knitting needles size 4.5mm (UK 7. US 7).
(Wear these warmers as they are or add the sheep decoration).
To decorate you will need:
White yarn.
Black felt.
Template for the head and legs. (This is included here).
Method:
Cast on 32 stitches.
Knit 5cm (2 inches) of 2×2 rib (knit 2, purl 2).
Knit 10cm (4 inches) of garter stitch (knit stitches, no purl).
Bind off.
With right sides together fold the wrist warmer over and use yarn to stitch the side seam leaving a gap for the thumb. Do this by sewing 10cm (4 inches) from the bottom of the rib cuff up the side of the warmer. Leave a gap. Then sew 3cm (1 1/4 inches) from the top down.
Turn the wrist warmer right sides out.
Make two of these.
Make the sheep: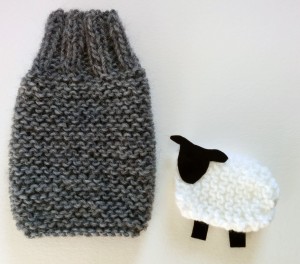 Cast on 16 stitches using white yarn.
Knit 18 rows of garter stitch.
Row 19 – K1, K2tog across the row. K1. (You should now have 11 stitches).
Row 20 – K1, K2 tog across the row. K2tog. (7 stitches).
Bind off.
Fold in two and sew edges together with white yarn to form the body of the sheep.
Cut out the head and legs using black felt.
Sew all the pieces of the sheep on to the top surface of the wrist warmer.
Repeat this process with the other wrist warmer to complete the set.